Avoid Transformation Anxiety!
A Scaled Agile Framework® (SAFe®) Transformation goes beyond adopting the framework, which updates an organization's roles, practices, and deliverables with Lean-Agile principles. A SAFe Transformation also includes embracing the Lean-Agile culture, mindset, and leadership. This new way of working allows for teams of teams to deliver business value on a regular cadence, with greater employee and customer satisfaction.
A SAFe Transformation is typically accomplished through training and coaching, with many companies investing in top talent to help lead the journey. If you want your Transformation to be a success, then it's best to come to the table prepared. Since becoming the first SAFe Implementation Gold Partner in 2012, our experienced coaches have learned how to effectively assist companies in this endeavor, and so we invite you to take advantage of their knowledge in this guide.
Watch this 90 second video to discover how SAFe Guides Your Digital Transformation.
Important Considerations in a SAFe® Transformation
Transformation Vendors: Are They All the Same?
Selecting the right vendor to partner with in your SAFe Transformation is critical to your success. Change (even positive change) is difficult, but it does not need to be a miserable experience.
Some vendors take prescriptive approaches ("this is what you do and how you do it") and some organizations appreciate this. These are the organizations that typically want to adopt technical practices without changing their political structure. This is natural; after all, change is scary and people who enjoy power can have a hard time giving it up. But problems will inevitably arise when hanging on to the traditional "command and control" way of working, as too much centralized control tends to inhibit true agility.
The SAFe Implementations that truly stick and sustain are the ones that go beyond adoption of mechanical practices and into the realm of cultural Transformation. In 5 Little Changes that Make a Big Difference in Your SAFe Transformation, Mitch Malloy describes the importance of the Lean-Agile Mindset fueling the Lean-Agile Toolset. Without a Lean-Agile Mindset, you will never obtain a deep understanding of how to use Agile tools to their maximum capabilities. The Lean-Agile Mindset is detailed below in the SAFe House of Lean.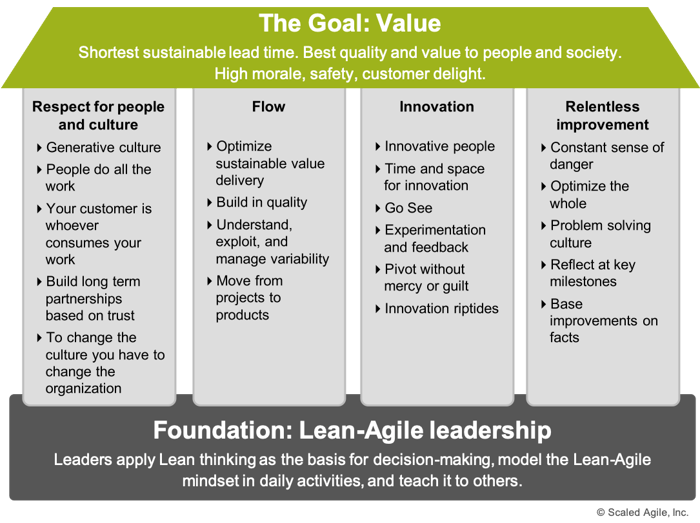 The SAFe House of Lean provides the foundation for how to select the right partner: the right vendor will demonstrate Respect for People and Culture, help you focus on establishing and improving Flow, ensure Innovation is woven into every process and decision, foster Relentless Improvement, support Lean-Agile Leadership, and drive Value.
If you want your stakeholders and internal champions to fully understand, contribute to, and own your Lean-Agile and SAFe Transformation, then consider hiring a vendor with highly experienced and collaborative coaches and trainers. These coaches will be deep in the Lean-Agile mindset and can encourage those meaningful conversations that lead to successful change initiatives.
Change is difficult, but it doesn't have to be a miserable experience. Find someone you like and trust, who meets you where you are, shows empathy for your situation, and offers a path that makes sense for you. It might make sense for you to start by talking to a SAFe Program Consultant Trainer, someone who has had demonstrated superior competency and in depth experience in SAFe. They can talk over the issues you're currently facing and potential solutions.
Avoid Defeat—Know Why SAFe Transformations Fail
You're likely aware that SAFe Transformations require discipline, commitment and time, but knowing why Transformations fail will best prepare you for success. In 8 Common Reasons Why SAFe Transformations Fail (and How to Avoid Them), Saahil Panikar, SPCT and Saajan Panikar, SPC teach you how to identify the pitfalls in advance so that you can perform the necessary actions to get back on track. Warning signs include:
Doing too much too fast

Not providing adequate training

Over-reliance on outside consultants

Giving up because the road is too bumpy

Lack of guiding coalition or transformation team

Forgetting to create short-term wins

Expecting transformation to be inexpensive

Forgetting that culture change comes last
One of the best things you can do to avoid failure is follow the SAFe Implementation Roadmap. You don't have to implement SAFe this way, but according to Scaled Agile Inc, the Roadmap graphic offers a proven formula for successfully implementing SAFe.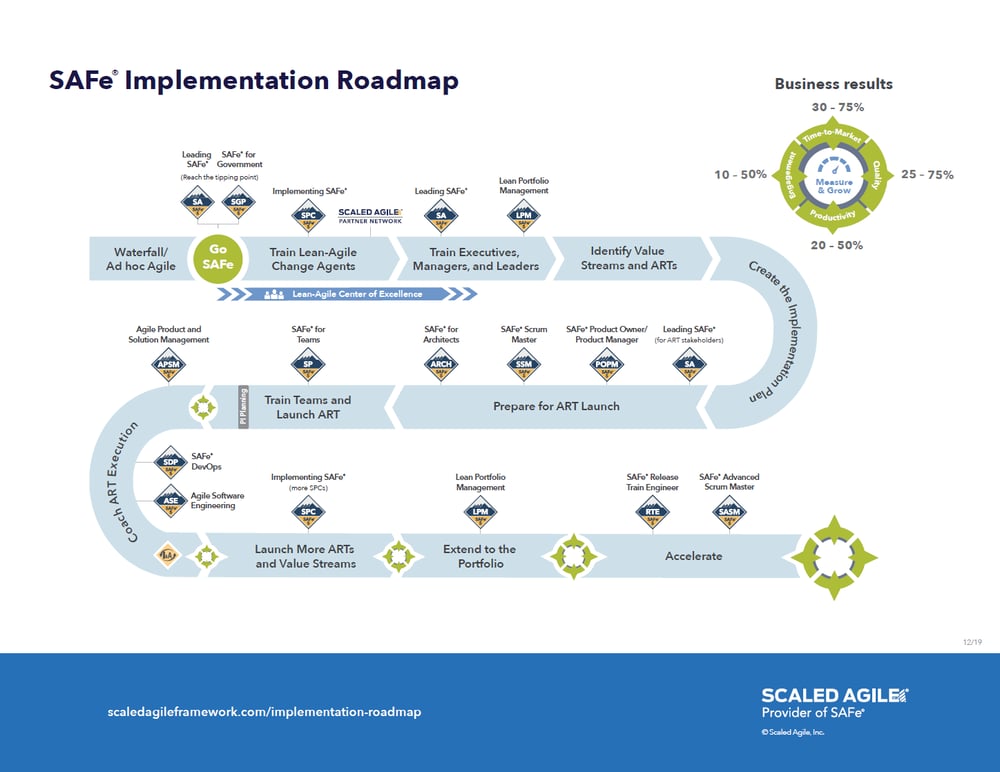 Understand the Secrets to Lean-Agile Leadership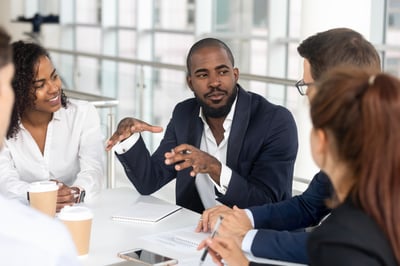 There is a major difference between a SAFe Transformation and a SAFe adoption. In an adoption, SAFe practices are mechanically utilized by the organization (sometimes this is called "Installing the Agile"). This does not mean that the organization is transforming.
For a true SAFe Transformation to occur, the Lean-Agile Mindset and Culture have to really set in. The best way for this to happen is through Lean-Agile Leadership. Characteristics of Lean-Agile leaders include:
Prioritizing business value (not outputs)

Backing off and giving others a chance to lead

Communicating a higher vision, a "why"

Leading by example and demonstrating purpose

Showing self-awareness
So how can you and others in your organization acquire such characteristics? There are several ways. To start, check out 6 Videos that Reveal the Secrets of Lean-Agile Leadership, curated by Susan Strain. This article offers 6 videos, written descriptions, and key takeaways that explain the benefits of various Lean-Agile Leadership qualities.
We also recommend that individuals involved in a transformation take a Leading SAFe course with SA Certification or an Implementing SAFe course with SPC Certification, both of which teach attendees what it means to lead a Lean-Agile Transformation at Enterprise scale. Having internal SAFe Agilists (SAs) and SAFe Program Consultants (SPCs) is an excellent way to transform your organization's culture. These are individuals who remain a part of your organization and are committed to modeling and sharing Lean-Agile practices.
Another (and probably the most effective) option is to hire one or more experienced SPCs to model and teach Lean-Agile behaviors and practices to those in your organization. These individuals sometimes have years of teaching and coaching experience and know the tips and tricks to accelerate the adoption of a Lean-Agile Mindset. Their ultimate goal is to prepare organizations to succeed and sustain on their own; they are wholly dedicated to communicating the value of a Lean-Agile way of working.
For some free tips on teaching and leading SAFe, check out these helpful articles:
Sometimes it can be tough leading the unfamiliar, and these articles should help you feel more comfortable when the time comes.
Choose the Right People for the Right SAFe Roles (+ 3 Tips)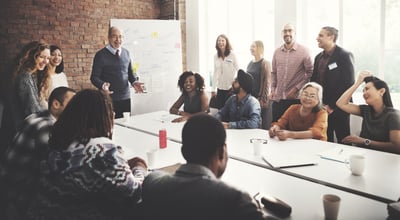 The SAFe Framework consists of multiple levels with a number of new and critical roles. How do you know if you're selecting the right people for the right positions? Start by reviewing the definitions of these roles and their practical responsibilities in the SAFe Role Dictionary, a useful tool. If there is still confusion and uncertainty when selecting people for key roles, then an experienced coach can provide guidance in selecting the right person for the job. Below are some quick tips for selecting and grouping the right people from Nishant Sasidharan. If you find these tips helpful, then let us know and we will continue to add more!
1. Don't just hand the RTE role to the Program Manager! Instead, consider the candidate's communication skills.
The Release Train Engineer (RTE) is a servant leader responsible for driving the end to end delivery of the Agile Release Train. Sounds like a job for someone organized and responsible, right? Turns out there's a lot more to it.
Too often, companies give the RTE role to a Program Manager without fully understanding that an RTE's primary job will be to coach and lead conversations at all levels. The best Program Managers are lucky enough to have strong leadership and communication skills, but sometimes this isn't the case. For an RTE to accomplish his responsibilities effectively, he has to be an exceptional communicator who can mentor teams with honesty, transparency, and an open mind.
Before selecting your Program Manager for the RTE role, ask yourself: Is he/she an excellent facilitator? Negotiator? Communicator? Determine if this person would be a good servant leader, able to lead by example and serve the ART with the utmost integrity. If not, then you are better off considering someone who has experience connecting with people at all levels.
2. Form a Product Management Team consisting of those who already have a deep knowledge of your customer base.
Product Management is best as a team of people (not a single person) who have content authority for the Program Backlog. A Product Management team needs to be the internal voice of the Customer, working with Customers and Product Owners to understand and communicate their needs, define system features, and participate in validation. While selecting people for the Product Management Team, look for those who are currently in touch with your customers directly and have the knowledge to convert the customer's voice into tangible outcomes.


3. Start by including a SAFe Portfolio Coach in the LPM Team to help guide the way.
As one of the seven core competencies of a Lean Enterprise, Lean Portfolio Management (LPM) can help you apply lean and systems thinking most effectively to align the portfolio with your business objectives. The LPM team consists of five or so people responsible for the financials and driving the enterprise in the right direction. When forming this team, make sure that you have people who can advocate the Lean way of thinking. We strongly recommend having a SAFe Portfolio Coach work with team in the beginning; this will help the LPM Team get comfortable reviewing and prioritizing the Portfolio Backlog with senior level stakeholders on a regular cadence.
Why the Best Organizations Set up a LACE (and you should too)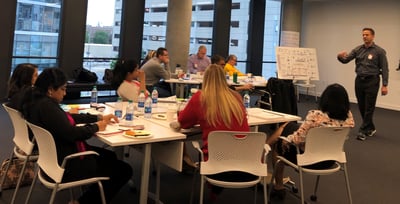 Once your SAFe Transformation has occurred, how can sustain your success? To continue achieving great business outcomes, your organization must fully commit to adopting and continuously improving the Lean-Agile way of working. The best way to do that is with a centralized leadership team that promotes collaboration and Lean-Agile best practices across the enterprise.
A Lean-Agile Center of Excellence (LACE) is the SAFe term for a small, dedicated team of leaders and change agents who are responsible for driving lasting organizational change. Give it whatever name you'd like, as long as you have qualified individuals working together to drive Lean-Agile change.
So how does a LACE make a crucial difference in your organization?
Acts as a central resource for teams to get help and guidance

Standardizes Agile training

Encourages common tool usage and makes education available to facilitate effective tool usage

Helps implement Agile development practices, including Continuous Integration, Automated Deployments & Testing, Test Driven Development, etc

Promotes cross-project/department communication and collaboration on Agile projects
Need assistance in growing or forming your company's LACE? We offer a private Lean-Agile Center of Excellence Workshop to help you create the mission statement and charter for your LACE, determine which LACE model is best for your organization, and create an action plan for short-term wins critical to organizational change.
ICON provides complete SAFe Transformation services. Contact us for a free initial consultation.

After helping more than 200 companies transition to SAFe Practices, ICON's Transformation Coaches are capable of guiding the inexperienced through the Lean-Agile principles of SAFe. We specialize in collaborating wiht our clients to develop customized transformation plans.
Do you have questions about readiness, time-frames, costs, tooling, or anything else before beginning your transformation? We would love to help you get started.